Low price type splines
This product is low price spline series that is ideal for simple applications such as conveyor width adjustment and torque transmission after positioning.
Standard type is gunmetal nuts and S45C shafts, in addition combination of corrosion-resistant PET resin nuts and SUS304 shafts are also.
Miniature type is standardized combination of PPS resin nuts and SUS304 shafts.
Therefore, it can be used in a wide range of environments.
In addition, miniature series has two types of nuts.
Single nut is standard and Double nut is non-backlash.
Both of standard and miniature types are delivered that cut to the required shaft length.
Ozak has accepted shaft end machining based on customer drawings also.
Click here for details of various grease
・Opposite side: 7mm~32mm
・Max length: 2m
・Opposite side: 7mm~32mm
・Max length: 2m
【Related product】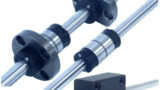 Ball Splines
Three ways to use by one axis It can be used in three ways; torque transmission, linear motion in a single axis, and li...