Ozak Original Products
Such as Flanged Ball Bearings, low price products, compact design products are available.
This is a friction-driven lead screw in which the clearance with the shaft is adjusted by tightening at a coil spring and bolt
【Related product】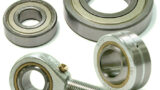 Mechanical Parts
Machine Element Parts Our lineup includes such as low price and highly reliable rolling bearings and oilless rod ends. ...