Smoothly, no clearance and compactly designed roller guide
Rollers are adjusted without clearance and effectively positioned for moment loads, therefore smooth movement is achieved even in cantilevered structure.
There are options as following. Lubrication unit suitable for dustproof and high-speed transfer, Connecting unit that can significantly reduce impact at rail joints, etc
Click here to download of LS series catalog    Click here for Connecting unit introduction video
Click here to download of LS series catalog
【Click here for Connecting unit introduction video】
In the case of end-face-to-end joints, even if the rails are aligned in the width and height directions and eliminate the clearance between rails, it can cause snagging at the joints by the slightest misalignment, therefore resulting in noise from impact and affecting the running life.
Connecting unit minimizes misalignment and can greatly reduce snagging at joints.
Please note the volume, and feel the difference.
Recommended Products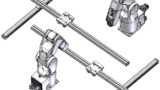 Linear roller Sliders
A new type of guide with an integrated aluminum frame that allows guide rails to be used directly as pillars or beams C...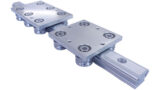 Speedy Roller Guides / V Wheel Roller Guides
Lightweight, smoothly, no clearance and easy installation Since there is no risk of the ball falling, the guide carriag...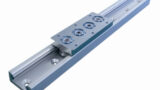 Inner Type Linear Roller Slider
Smoothly, no clearance and compactly designed roller guide Rollers are adjusted without clearance and effectively posit...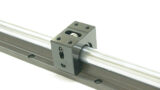 Super Linear Guides
No impact noises, no rolling vibrations. Most smooth linear motion This series, has an extremely low frictional resista...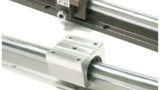 Round Type Linear Guides
Stable, Easy assembly, Fully interchangeable Parallelism and horizontality adjustment during assembly is easier than li...