Individual circulating transfer / Long stroke transfer
Two types of system units have been added to the lineup: PHLSI can transfer workpieces individually, and HST can easily transfer long stroke.
Click on a link below the video to jump to details. (Dimensions, CAD data, etc.)
【Demonstration video: working in the upper lane / waiting and charging in the lower lane】
【Demonstration video: It is mounted a simply robot arm and transferred workpieces】
Click here for details of HST  Click here to download the catalog
---
【PHLSI】
■ Each carriage can be transferred individually and vertical rectangular circulation
■ Each carriage is equipped with roller guides, drive units and wireless communicator
■ Using OZAK original Linear roller Sliders suitable for rail to rail transfer. And a rack and pinion are used for drive unit.
■ A battery is charged quickly and contactless, and communication with the PLC via wireless LAN, therefore each carriage can transfer independently without cables
■ Each unit is modularized at 2m, therefore, long stroke transfer is also possible.
Click here for product introduction video  Click here to download the catalog
・Max workpiece weight:5kg
・Carriage dimensions:300mm×210mm
・Max speed:1m/s
【HST】
■ Each unit is modularized at 2m, therefore, it is possible to reduce time and effort to design
■ Easily connectable and separable structure makes it possible to increase or decrease the number of units according to situations, thus shortening the construction period
■ Rail is composed aluminum frames and minimize height designed, therefore it's possible to use as a step when maintain machines
■ It has high load capacity, therefore it's possible to mount a robot also
■ By combining Linear roller sliders suitable for moving between rails and a newly developed connection unit, noise at the joints is eliminated and smooth movement is possible
Click here for product introduction video  Click here to download the catalog
・Max loading weight:100kg
・Carriage dimensions:260mm×300mm
・Rack and pinion drive
・Max loading weight:250kg
・Carriage dimensions:400mm×400mm
・Rack and pinion drive
・Max loading weight:500kg
・Carriage dimensions:500mm×500mm
・Rack and pinion drive
【Related product】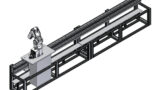 Robot transfer system
Move robots It can be long stroke transferred a robot itself by easily connected mechanismIn recent years, automation us