18.5 times longer life than standard model. High reliability under heavy moment load application.
This product has been very well received in various fields, including the automotive and semi-conductor industries, which require high reliability, as well as automated equipment in food factories that operate 24 hours a day.
Increasing moment loads due to the increase in size of the equipment have led to an increasing number of cases of premature bearing failure, but many years of research and development have ensured long rating life even when used with harsh moment specifications.
It is applicable to almost all OZAK linear bearing series and can be ordered by prefixing the bearing model number with "U".
Applicable bearings(jump to the bottom of page)
Reliability rank details(jump to the bottom of page)
【Applicable bearings】
■ Standard type
■ Maintenance Free Type
【Life test results by rank】
The graph below is a "Weibull diagram", where the vertical axis is the probability of failure and the horizontal axis is the non-dimensionalised running distance.
OZAK four linear bearing series are ranked and the results of their life tests are plotted.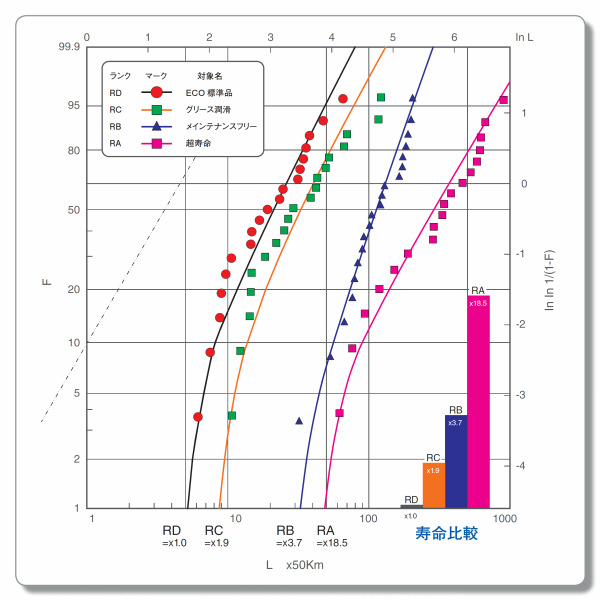 The leftmost black double-dotted line represents the rated life defined by ISO, while the life of our standard product rank D (RD) is approximately seven times longer than the ISO rated life at the 10% breakage probability point. The following is an explanation of each series.
Rank A(RA):Ultra Series
Based on various life tests conducted by Ozak over many years, the failure modes of linear bearings are analysed from various perspectives.
The series was developed on the basis of these know-how and can extend rating life by 18.5 times compared to the standard product rank D.
They are increasingly being used where excessive moment loads act, where less frequent maintenance is required, and where high reliability is required.
ランク区分資料ダウンロードはこちら
対応製品一覧はこちら(ページ上部へ移動します)
Rank B(RB):Maintenance Free Series
No need to refill with grease as the special seals significantly reduce grease leakage
By improving the lubrication performance, the rating life can be extended 3.7 times compared to the standard product rank D.
It is also ideal for use in dusty environments, and there are cases where it has achieved a life extension of 10 times or more
メインテナンスフリーシリーズ技術資料はこちら
寸法・CAD Dataはこちら
Rank C(RC):Grease Series
By filling with an appropriate amount of grease, the rating life will be 1.9 times longer than that of the standar product rank D. Ozak will do the troublesome grease filling and ship it.
Five types of grease are available.
(For general industry, clean environment, vacuum, high/low temperature and food industry equipment)
グリースClick here for details.
ランクD 標準品寸法・CAD Dataはこちら